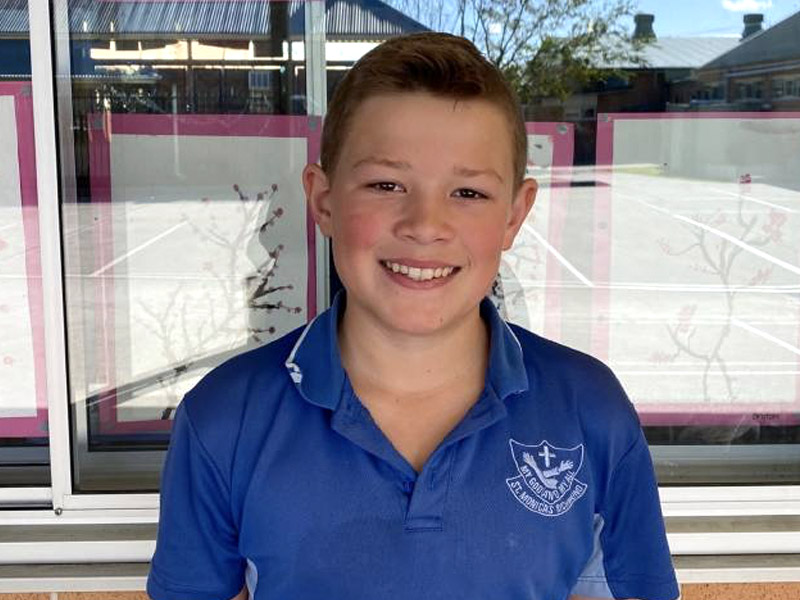 Jesse, school captain at St Monica's Primary School Richmond. Picture: Lauren Sultana
COVID-19 has brought about a raft of disruptions to the school year, but the Year 6 captain of our Hawkesbury-based primary school has taken the changes in his stride, showing maturity and resilience amid the global pandemic.
St Monica's Primary School captain Jesse (12), said his family always made sure they implemented COVID-19 precautions, like keeping their distance and using hand sanitiser before and after going to the shops.
"We've had to lay low for a bit, staying in and keeping safe for my grandparents because they're most vulnerable," Jesse said.
He said the coronavirus was talked about in school, particularly in terms of social distancing.
"We're younger so we have to remember to keep our distance with the teachers," he said.
When the pandemic hit, a lot of Jesse's after-school sports were cancelled, but he kept up his skills by practicing at home.
"My soccer got cancelled, Oztag got cancelled, cricket got cancelled. So we could still learn with my coach we talked about fitness skills in quarantine, it was really hard," he said.
"In my house it was go outside and kick a ball a bit, try to get your daily exercise. For cricket we went to the local reserve and played cricket with family."
When the Gazette spoke with Jesse, he said he was looking forward to playing his first game of soccer since soccer training had resumed.
"In soccer training, only the coach and manager can watch, the parents have to watch from their cars, but I've liked it because all the parents aren't yelling at the players," he said.
Jesse said he spent a couple of weeks at home during quarantine but was glad to be back at school full time.
"At home I didn't have as much help [with my schoolwork]. I find it easier back at school being one-on-one with teachers. It's easier with the help - with quarantine I was falling a bit behind. I also like seeing my friends a lot more," Jesse said.
---
Learn more about St Monica's Primary Richmond